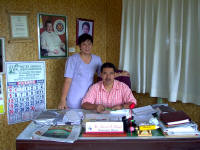 Hon. Mayor Manuel M. Butardo is the 21st Municipal Mayor of Guinayangan. He was born on November 17, 1962 at Guinayangan, Quezon. He is the eldest of the 4 children of the late Patrolman Vito Butardo and Mrs. Emilia Macayan. He married Malu David-Butardo on April 22, 1985 and they were blessed with 4 children, Harry, Glenn, Dale and Meg.
Mayor Manny is on his third and last term as the municipal mayor. He graduated from Manuel S. Enverga University with a Degree of Science in Civil Engineering in 1985. He began his public service when he was appointed as the Sangguniang Bayan Secretary in 1986. He served honestly and with utmost dedication in this position for 12 years which made him endear with the people particularly those from the rural barangays. He also served as the Acting General Manager of the Guinayangan Water District for 9 years (1987-1996) in which he was able to improved the water supply system in Metro Poblacion that is known today as one of the most successfully operated water districts in the province.
Since his first term as the local chief executive of Guinayangan, Mayor Manny has initiated and caused the realization of various development, environment, health and livelihood programs and projects that helped the people of Guinayangan experienced the present-day prosperity. Agriculture sustainability and infrastructure developments are still his major programs to this date. His landslide victory in the 2000 and 2004 elections where he won in almost 80% of all the 92 precincts in the municipality proved that the people has truly given their trust and leadership to Mayor Manny.