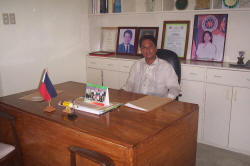 Hon. Mayor Edgardo E. Sales is the 22nd Municipal Mayor of Guinayangan. He was born on August 17, 1962 at Guinayangan, Quezon. He is the third of eight children of the late Godofredo Castillo Sales and Adoracion Amador Espanol. He married Aniceta Orbe-Alcantara in 1989 and they were blessed with 3 children, Mary Ann, Ma. Theresa and Michael Andrei.
Mayor Gado is on his first term as the municipal mayor. He graduated from the University of the East with a Degree of Bachelor of Science in Business Administration, Major in Management in 1984. He began his public service when he was elected as Member of the Sangguniang Bayan in 1995 garnering the second highest votes from all of the candidates. He served as Municipal Councilor for 3 years with utmost dedication and his position at the Sangguniang Bayan made him closer to the people particularly those from the rural barangays. His overwhelming success as SB Member for a full term and his will to fully serve his "kababayans", made him run fo Vice Mayor in 1998 which he eventually won in almost all of the precincts in the municipality. He served as Municipal Vice Mayor for 9 straight years providing the municipality with significant Municipal Ordinances that surely helped Guinayangan became a haven community and experience the present day prosperity.
Aside from being a public servant for such a long time, his heart closely belongs also to the Academe. He held the Chairmanship of the Sangguniang Bayan Committee on Education from 1995-1998. He was a secondary classroom teacher at Guinayangan Academy for 14 years. He served also as Finance Officer for 8 years and Assistant School Administrator of Guinayangan Academy from 2006-2007. He was one of the pioneers who instituted in 2003 the first Technical School in the municipality, the Guinayangan Institute of Technology. Until June 2007, Mayor Sales served as the School Administrator and the Vice President of the Board of Trustees of the Guinayangan Institute of Technology.
For his first term as the local chief executive of Guinayangan, Mayor Gado will initiate and cause the realization of various development, environmental, health, economic and administrative programs and projects. Included in his platform of Government includes Alternative Learning System, Non-Formal Education, Computer Literacy Program, Establishment of Municipal Library and Information Center, Dental Health Care, Construction of Municipal Health Center, Provision of additional medical and laboratory equipment, Day Care Program, Senior Citizen Welfare Program, Sports Development Programs, Agricultural enhancement Programs, Micro Finance, Product Marketing and Networking, Tourism Promotion and Development Program, Investment Promotional Program, Fishery Sector Development and Protection Program, Clean and Green Program, Solid Waste Management Program, Establishment of a Municipal Eco Park, reforestation Program, Marine and Aquatic resource Conservation and Preservation, Construction and rehabilitation of various Barangay and Farm-to-Market roads, Water Supply System Development, Peace and Order, and the Construction of New Sangguniang Bayan Office and Session Hall.