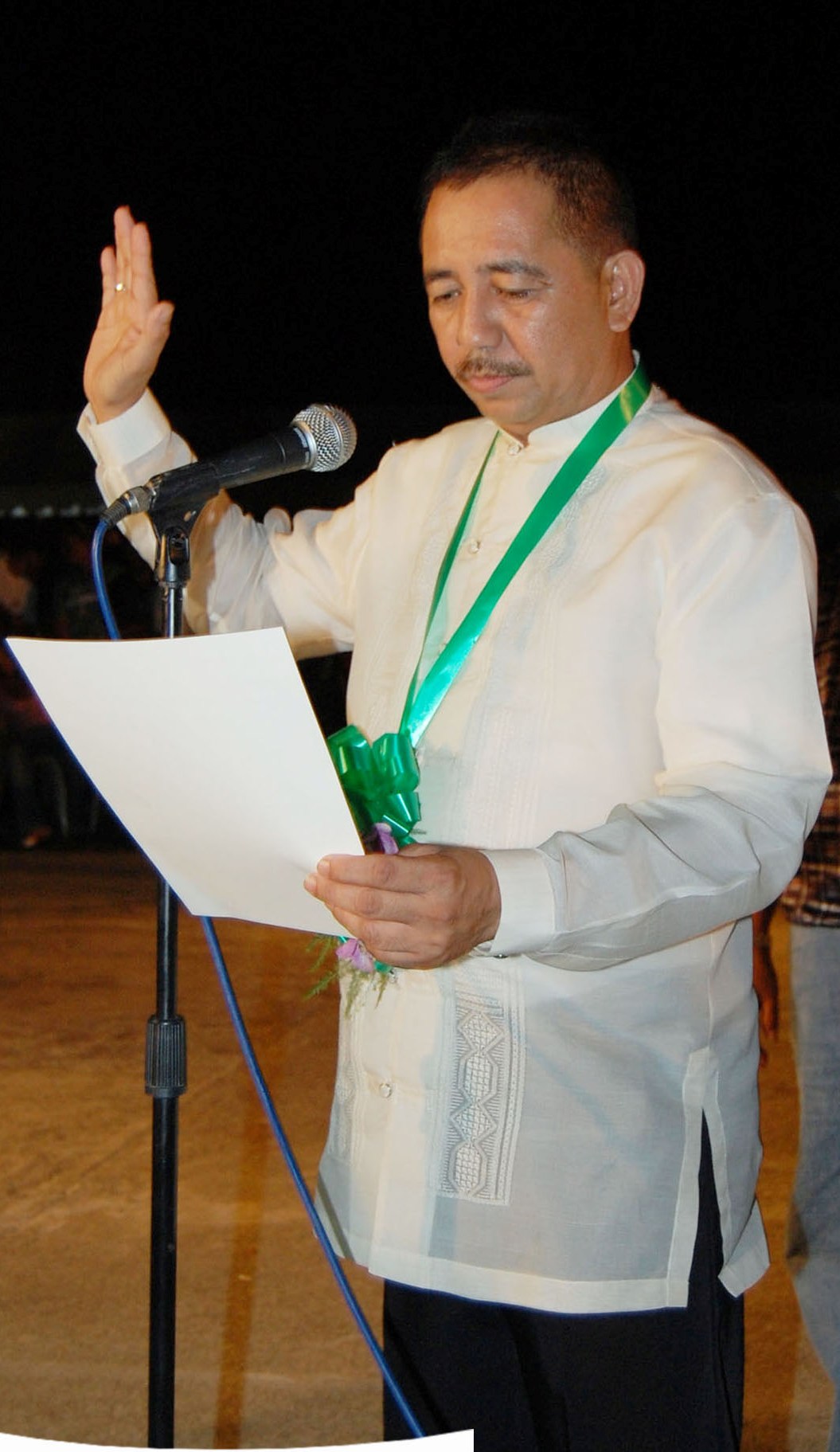 Hon. Mayor Angel T. Ardiente, Jr., M. D. is the 23rd Municipal Mayor of Guinayangan. He was born on November 20, 1960 at Quezon City. He is the fourth of five children of the late Angel Paloma Ardiente, Sr., (a local Composer, Head Teacher) and Gliceria Sario Torres (a Master Teacher). He married Dra. Annabel Coma Taganas of San Mateo, Isabela Province in December 28, 1989 and they were blessed with 3 sons, Aaron, Angel III and Adrian.
Mayor Doc Jojo is one of the new breeds of young politicians in the locality. His first try in politics in the local elections last May 2010 became successful and it again proved that new politicians with good, attainable, concrete and precise platform of government are given with the most trusts by the citizens.
Mayor Ardiente graduated with a degree of Doctor of Medicine at Virgen Milagrosa Educational Institution in Pangasinan Province in 1987. He finished his pre-med course - Bachelor of Science in Zoology at the Far Eastern University in Manila in 1982. He passed the Physician Licensure Examination given by the Professional Regulatory Commission in Manila on February 28, 1987.
Although new in politics, Mayor Jojo is not new in providing services to the public. He began his public service when he was appointed as Rural Health Physician (presently called Municipal Health Officer) of Guinayangan, Quezon on April 28, 1989. He hold this position for 21 years until he decided to file for the certificate of candidacy as municipal mayor in March 2010. His advocacy for the wellness and improved health conditions of the people of Guinayangan by implementing various programs and projects of the Department of Health in the locality with the support of his able staff in the municipal health center made him more endeared to the people particularly those from the rural barangays.
Aside from being the Municipal Health Officer for such a long year, Mayor Ardiente also served as member of the Board of Directors of the Quezon Electric Cooperative (QUEZELCO I) from 2005-2010 and the Medical Officer of the 201st Infantry Brigade of the Philippine Army stationed at Brgy. Rizal Ibaba, in the Municipality of Calauag, Quezon for 21 years (1989-2010).
For his first term as the local chief executive of Guinayangan, Mayor Doc Jojo adhere to focus to the Vision of Guinayangan: "isang maunlad, masagana, matatag at mapayapang pamayanan na may malulusog, may mataas na antas ng kaalaman at nagkakaisang mamamayan na may pagpapahalaga sa kapwa at kalikasan, masunurin sa batas at may banal na pag-ibig sa Diyos." (A progressive and peaceful community with healthy, knowledgeable, well-informed, united, God-fearing, nature-loving and law-abiding citizens).
His priority platform of Government includes the improvement of the Agriculture Sector (farming and fishing) and the continued improvement of the health conditions of every members of the community through the prevention of diseases and providing medical and dental missions in the barangays. These priority programs will be further enhanced by improving Education, Sports, Tourism, Commerce, Peace and Order and Infrastructure Development. He calls on every member of his administration, particularly the municipal employees, to serve the people with utmost integrity, professionalism, fairness and honesty.
Mayor Ardiente's motto of Governance is "AKSYON TUNGO SA ASENSO" (Action to Progress).