Social Welfare Services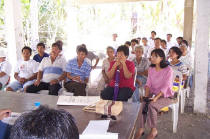 The municipal government of Guinayangan is specially sensitive and responsive to the concerns of the children, the youth, the women, the elderly, the specially-abled and the disadvantaged. Policies and programs addressing the concerns of these sectors were given priority by the Office of the Municipal Social Welfare and Development to take pride in pursuing a truly meaningful development of the municipality and its people. The future lies in the ability of the present generations to take the cudgels of development. The municipal government must exert every effort to ensure that they become productive citizens of the municipality and are provided the opportunity to realize their potential to the maximum. Gender bias and barriers are being eliminated and removed to optimize the role and contribution of women in the development of Guinayangan. The welfare and concerns of the elderly, specially-abled and the disadvantaged are looked after and addressed. The best basic things for the children are being provided.
The municipality is very fortunate to have Guinayangan Project (affiliated with the Christian Children's Fund - CCF) as its NGO partner in providing welfare and assistance for the children especially those from the poor and marginalized families in the rural barangays. CCF is headed by its Coordinator Mrs. Angelina C. Vizcarra and a group of social workers. Their Office is located at their newly acquired site in Barangay Manggagawa.
Among the major programs and activities of the Municipal Social Welfare and Development Office includes services and assistance such as:
* Children's Welfare
- Physical Development
- Development of Personal Abilities
- Ability to Handle Human Relations
- Development of Creative and Analytical Abilities
- Provision of Comfort and Safety
- Development of Spiritual and Social Values
* Women's Welfare - Gender Sensitivity
* Family Welfare - Pre Marriage Counseling
* Senior Citizen - Issuance of Senior Citizen IDs
* Livelihood and Emergency Assistance to Individuals and Families in Crisis
* Free PHILHealth assistance to poor and underpriviledged
* Case Studies and Referrals
Social Welfare / Day Care Centers / Workers
| | | | |
| --- | --- | --- | --- |
| | MSWD Office | Claro M. Recto Street | |
| | MSWD Officer/Head | Rosalina P. Alcantara | |
| | Staff: | | |
| | Daycare Worker II | Ineke M. Sornito | |
| | Social Welfare Aide | Gloria R. Estopen | |
| | | | |
| | Daycare Services | | |
| | Brgy. Poblacion | Lilian R. Uy | |
| | Brgy. Danlagan Batis | Ma. Lucia L. Igana | |
| | Brgy. Dancalan Caimawan | Gerlie Y. Glorioso | |
| | Brgy. Dancalan Central | Myrna G. Collado | |
| | Brgy. Capuluan Central | Gloria B. Jazareno | |
| | Brgy. Capuluan Tulon | Andalicia M. Mendoza | |
| | Brgy. Cabong Norte | Arsenia M. Seria | |
| | Brgy. Calimpak | Shirley R. Ricafort | |
| | Brgy. Danlagan Reserva | Peter Paul R. Etcubanas | |
| | Brgy. Manlayo | Donna B. Noblezala | |
| | Brgy. Gapas | Ester C. Argamosa | |
| | Brgy. San Isidro | Carlita A. Dapog | |
| | Brgy. San Luis II | Arlene L. Arbasto | |
| | Brgy. San Roque | Arsenia M. Gallevo | |
| | Brgy. Bagong Silang | Nilda L. Millare | |
| | Brgy. Manggagawa | Clarissa C. Damgo | |
| | Brgy. Dungawan Central | Conrada A. Alegria | |
| | Brgy. Arbismen | Beverly L. Serenilla | |
| | Brgy. Salacan | Johuana B. Laysa | |
| | Brgy. Ligpit Bantayan - Budyong | Carina M. Reobilo | |
| | Brgy. Ligpit Bantayan - Pantay | Felomina C. Mappala | |
| | Brgy. Aloneros - 1 | Ma. Rosalia C. Abrencillo | |
| | Brgy. Aloneros - 2 | Teresita Licas | |
| | Brgy. Balinarin | Nemshe R. Jorvina | |
| | Brgy. Hinabaan | Cielo B. Hernandez | |
| | Brgy. Triumpo | Ednaliza P. Bravante | |
| | Brgy. Lubigan | Nenita T. Villegas | |
| | Brgy. Sisi | Francisca D. Garganera | |
| | Brgy. Sta. Cruz | Felicisima N. Cuenco | |
| | Brgy. A. Mabini | Veneranda V. Catapang | |
| | Brgy. Villa Hiwasayan | Charito V. Cadarit | |